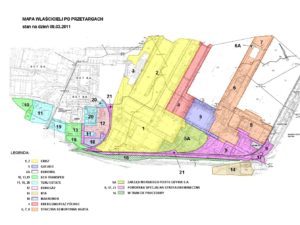 The former Gdynia Shipyard was liquidated in 2009. Every liquidation can be narrated as the ending of something. Companies that take over the remaining means of production would narrate the liquidation of enterprises as a natural process. In this case, the state granted Crist – a private shipbuilding company founded in 1990 – a loan in order to purchase a third of the former shipyard facilities. They operate in the dry dock and in the shops where the hulls are produced. Today, the company specializes in offshore construction and in the production of hulls.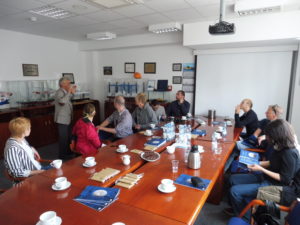 In socialist days, workers named the main office building in which the workshop participants sit 'aquarium' – after the big fishes, such as the main director, who had their offices here. Following renovation in 2013, it now comprises the offices of different companies operating in the area of the former Gdynia shipyard.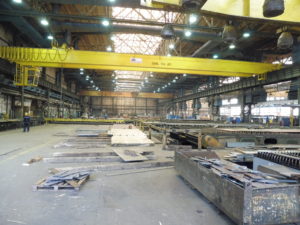 Steel sheets are cut in the former K1 department building from the 1970s. It is the beginning of the production process.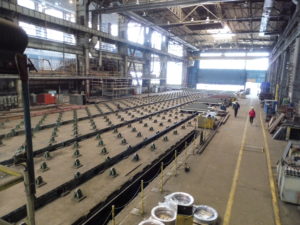 The cut steel sheets are transported on devices dating from 1976 in this hall of the former K2.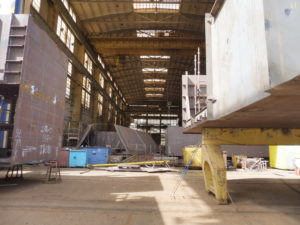 In the former K2 department building, built in the 1970s, elements for the hull are being put together into sections.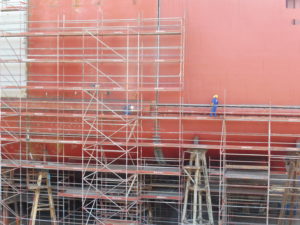 A welder is working on a ferry in the dry dock.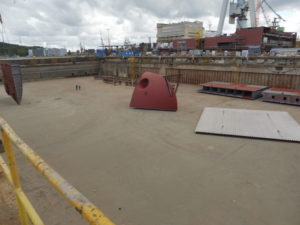 At the moment, there is ongoing construction on three ships in the dry dock simultaneously. Here you can see the first sections which are moved by the gantry crane. Nevertheless, there is still space in the 379 m long dock that can be floated in three pieces.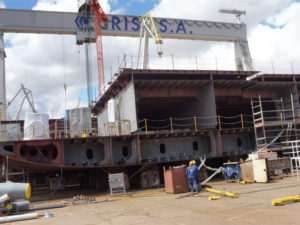 The gantry crane from another perspective. The crane was rebuilt in 1999 after a storm destroyed the one from the 1970s. With a 1000 tons capacity, it is the biggest in the Baltic Sea.
The former K3 building consisted of the canteen and cloakrooms for the workers. As was the case for most of the units, this one has also been renamed in the course of the transformation.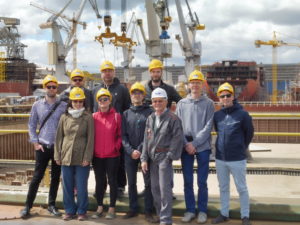 The participants of our workshop together with our tour guide, Zdzisław Bahyrycz, a former ship engineer.
We would like to thank CRIST SA. for the opportunity to visit their company and for allowing us to use these photos on our website.